ATV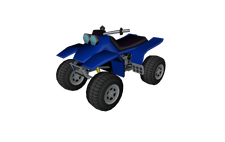 The ATV parked next to a shack by the Tire Fire
The
ATV
is a
secret vehicle
in
The Simpsons: Hit & Run
. It is only obtainable in
Level 4
. While this car is only available to the player in Level 4, it can be driven in any of the other levels of the game using the All Cars
cheat
.
Description
Edit
The ATV is a deep blue 4x4 with black, padded seats. It is small compared to most cars, coming behind only the redbrick and the R/C Buggy. It has tremendous speed and acceleration, but its handling and toughness are too poor to make it a reliable vehicle.
The ATV is found only in Level 4. It is located at the far end of the trailer park, coming from Evergreen Terrace. It is between the last two RVs where the player will find the ATV.
Ad blocker interference detected!
Wikia is a free-to-use site that makes money from advertising. We have a modified experience for viewers using ad blockers

Wikia is not accessible if you've made further modifications. Remove the custom ad blocker rule(s) and the page will load as expected.