Apu Nahasapeemapetilon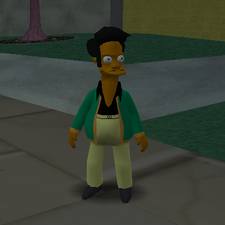 Apu as he appears in Level 5
Apu Nahasapeemapetilon is a playable character and one of the main protagonists in the game, The Simpsons: Hit & Run. He is friends with the Simpsons Family, and can be played as the main protagonist of Level 5.
Apu manages and works at the Kwik-E-Mart, and can always be seen there during the three suburb levels. Apu also makes mission appearances in Levels 2, 3, and very briefly in 6. Finally, as mentioned before he is the main character during Level 5.

The Army costume is an Indian army uniform consisting of a white jacket with epaulets and white pants, topped off with a purple-maroon turban. It is a reference to the costume he wore in the episode Homer the Vigilante. It costs 375 coins.

The American costume consists of a the Isotopes baseball T-shirt and a stereotypical 10-gallon hat. The costume is a reference to Much Apu About Nothing. The costume is required to begin This Little Piggy. It costs 425 coins.

The B-sharps costume is the uniform that Apu wore when he was a member of the The Be Sharps barbershop quartet. It costs 475 coins.
Mission Appearances
Edit
As the level's protagonist, he appears in all missions.
Apu is the only character that the player can play as that is not related to the Simpson family.
Apu is one of the only characters to make an appearance in every level of the game:

Characters can not drive their cars if they play a role in the level's plot, appear as a background character or take part in street races. Despite this, Apu can be seen driving the Longhorn in Level 7, even though he can be seen tending to the Spook-E-Mart in the same level.