Ad blocker interference detected!
Wikia is a free-to-use site that makes money from advertising. We have a modified experience for viewers using ad blockers

Wikia is not accessible if you've made further modifications. Remove the custom ad blocker rule(s) and the page will load as expected.
Apu Nahasapeemapetilon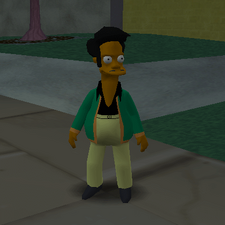 Apu as he appears in Level 5
Apu Nahasapeemapetilon
is a character from both the Simpson television series and this game. The player plays as Apu during the
fifth level
of the game whilst on a night version of
Level 2
. He is friends with
Homer
,
Marge
,
Bart
and
Lisa Simpson
.
Character clothing refers to the outfits that the player can purchase for character that they are playing as in that level. The costumes (usually three per level) can be purchased from a clothing point somewhere on each map, and purchasing all the customers count towards getting 100% on that level.
Since Level 5 is a night version of Level two's map, the locations to buy character costumes are the same.
Costumes
Edit

The Army costume is an Indian army uniform consisting of a white jacket with epaulets and white pants, topped off with a purple-maroon turban. It costs 375 coins.
American
Edit

The American costume consists of a the Isotopes baseball T-shirt and a stereotypical 10-gallon hat. The costume is a reference to Much Apu About Nothing. The costume is required to begin This Little Piggy. It costs 425 coins.
B-Sharps
Edit

The B-sharps costume is the uniform that Apu wore when he was a member of the The Be Sharps barbershop quartet. It costs 475 coins.
Apu is the only character that the player can play as that is not related to the Simpson family.