Colonel Homer is the 2nd bonus mission of Level 1.
Objectives
Edit
Leave the Kwik-E-Mart and find the 10 lost instruments
Go talk to Barney for a soundtrack disc behind the fire truck
Go to church and give them
The song that plays in this mission sounds very similar to "Pruit Igoe" by Philip Glass, and is shared with Beached Love.
The player will hear this musical cue when there's less than 10 seconds left:
The player will hear this upon failing the mission:
The player will hear a fanfare upon completing the mission:
Transcript
Edit
Homer: (at the Kwik-E-Mart) Before I say anything, I got a plan to deal with it.
Lurleen: Does it involve the missing items?
Homer: No. Lost instruments. There was something to do with Marge and his three kids. And your way sounds better. There is a lost more jobs to do.
Lurleen: (sighs) If you say so.
[Homer searches 10 lost instruments and talks to Barney behind the fire truck]
Homer: Uh, you remember that disc that my kids create it? If you haven't done anything that I told you, Royce meets you there.
Barney: Here you go, Homer. A disc for me, us and them!
[Homer gives his disc to church]
Lurleen: Thanks, Homer. You have finally found all his instruments...and my soundtrack disc. If you excuse me, I have a job at KBBL.
Homer: More like, Colonel Homer. No matter what you call it.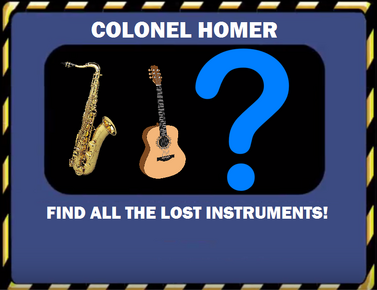 Ad blocker interference detected!
Wikia is a free-to-use site that makes money from advertising. We have a modified experience for viewers using ad blockers

Wikia is not accessible if you've made further modifications. Remove the custom ad blocker rule(s) and the page will load as expected.