Grampa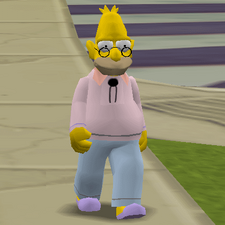 Grampa walking down the street in Level 1
Abraham Jedediah
 "
Abe
" 
Simpson II
, better known as
Grampa
, is a non-playable character in
The Simpsons: Hit & Run
. He is the father of
Homer
, father-in-law of
Marge
, and, as his nickname suggests, is the grandfather of
Bart
and
Lisa
. He is a minor character, showing up a few times throughout the game.
Role & Appearances
Edit
Grampa has a role in missions in Levels 2, 3, 4, and 7. Lisa and Marge turn to him for advice on Bart, while Bart and Homer use him for his car. He is also seen in the kitchen of the Simpsons' house in Levels 1, 4 and 7 as well as outside of the retirement castle in Level 1 and walks around the Springfield Park in Level 5. The following list contains all of Grampa's appearances in missions, whether essential to the plot or not.
Ad blocker interference detected!
Wikia is a free-to-use site that makes money from advertising. We have a modified experience for viewers using ad blockers

Wikia is not accessible if you've made further modifications. Remove the custom ad blocker rule(s) and the page will load as expected.