Important locations in Level 3 is a guide to locations in the third level of the game which the player needs to visit during missions or to find one of the collectable items that are scatted around the game. This page will give player basic information about these locations so they are easier to find.
This page is for location that only appear/ have only one purpose in the game. For important locations that appear in multiple missions and/or levels, see Locations.
Wall E. Weasles
Edit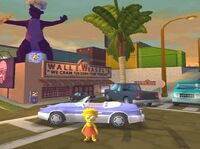 Wall E. Weasles is a family restaurant that the player needs to travel to during the mission "Clueless" where Lisa is trying to hunt down her missing brother Bart whilst Millhouse shows up to each location, trying to get a data from Lisa.
Wall E. Weasles can be found in the upper part of level three's town and is nearby the Comic book guy's shop Android dungeon. It is very close to the Clueless starting point as it is just at the end of the street, Simply head down the street and turn right. If you turn right almost straight-away, you can fall down into the restaurant's car park.
The Planet Hype
Edit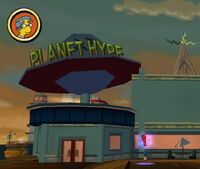 Planet Hype (a.k.a. Planet Springfield) is an over-hyped, overly trendy movie-themed restaurant located at the Springfield Squidport. Rainier Wolfcastle is frequently seen here, as he is a principal investor in the establishment.
In the game it is a driving to location for Level Three's mission "Clueless" and can be found on the boardwalk/ pier section of the town, just after the Purple welcome arch.