Knight Boat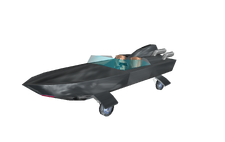 The Knight Boat parked along the beach below the Squidport
The
Knight Boat
is a
secret vehicle
in
The Simpsons: Hit & Run
. It is only obtainable in
Level 3
. While this car is only available to the player in Level 3, it can be driven in any of the other levels of the game using the All Cars
cheat
.
Description
Edit
The Knight Boat is a black speed boat that has been modified so that it's able to travel on both water and land. It sports extended exhaust pipes and wheels for land travel.
The Knight Boat is found only in Level 3. The player must get aboard the C-Spanker's top floor and find their way to several giant, green crates. They must jump onto the first two that are stacked, and then onto the three bigger crates. Inside the top one is the Knight Boat, facing reverse.
The Knight Boat draws from the vehicle of the same name that appears in The Simpsons. The Knight Boat is featured in its own TV show about the titular crime stopping vehicle.
In the show, the Knight Boat is spelled without the space in between.
Ad blocker interference detected!
Wikia is a free-to-use site that makes money from advertising. We have a modified experience for viewers using ad blockers

Wikia is not accessible if you've made further modifications. Remove the custom ad blocker rule(s) and the page will load as expected.