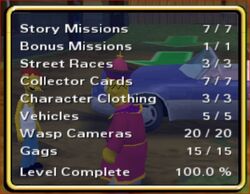 The Level Progress Screen, found via the pause menu, is a screen which calculates what percentage of the current level the player has completed so far.The player needs to complete all the tasks on the list in order to get 100% of the level completed.
The values
Edit
Story Missions - The player must complete all 7 mission on the level without skipping them.
Bonus Mission - The player must complete the Bonus mission.
Street races - The player must complete all three Street Races.
Collector Cards - The player must find all 7 cards on that level.
Character clothing - The player must buy all the available Character Costumes.
Vehicles - The player must buy and win all the vehicles on that level.
Wasp Cameras - The player must find, fight and destroy all 20 Wasp Cameras in the level.
Gags - The player must find and play all the Gags that are hidden throughout that level.
The player will need to collect Coins in order to buy Clothing and Vehicles.
They will get small amounts of coins for destroying Wasp Cameras.
They will also get coins from activating gags.
Ad blocker interference detected!
Wikia is a free-to-use site that makes money from advertising. We have a modified experience for viewers using ad blockers

Wikia is not accessible if you've made further modifications. Remove the custom ad blocker rule(s) and the page will load as expected.