For the extra missions in every level, see Bonus Missions.

Missions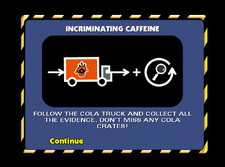 The briefing for Incriminating Caffeine
In
The Simpsons: Hit & Run
,
missions
are series of objectives that push the plot of the game. Each
level
has seven missions, adding up to a grand total of 49 missions in total. While there are 49 main missions in the game (
The Cola Caper
is a tutorial mission in the game and it cannot be replayed once it is completed by the player), there are also
bonus missions
,
street races
, and
wager races
that are sometimes labelled as missions, but are not needed to complete the game.
List of missions
Edit
Tutorial: The Cola Caper